AETNA SOLD
CVS Health Corp. announced Sunday it will buy Aetna Inc. for $69 billion in a mega-deal that will potentially reshape the health care landscape. The deal transforms the historic Hartford health insurer, which was founded in the city in 1853. The fate of Aetna's local jobs is not known, and will not likely be clear for months as the two companies merge their operations. Aetna will continue to operate as a stand-alone business unit with CVS Health and will be led by its current management team.
Hartford Mayor Luke Bronin said Aetna officials have assured him that the company will continue to be "part of a comprehensive, sustainable solution to Hartford's longstanding fiscal challenges." The majority of Aetna's 6,000 Connecticut employees work in Hartford.
As part of the deal, Aetna shareholders will receive $145 a share in cash and in CVS shares for each Aetna share. The transaction values Aetna at approximately $207 a share or about $69 billion. With Aetna's debt, the total value of the transaction is $77 billion. The deal, which is expected to close in the second half of 2018, requires federal and state approval.
"This combination brings together the expertise of two great companies to remake the consumer health care experience," said Larry J. Merlo, president of CVS. The deal promises to integrate the work of doctors, pharmacists, other health care professionals and health benefits companies to establish a platform easier to use and less expensive for consumers, he said.
Aetna Chief Executive Officer Mark Bertolini, who will be added to the CVS board of directors, said the deal positions the two companies to guide patients through the health care system. "Together with CVS Health, we will better understand our members' health goals, guide them through the health care system and help them achieve their best health," Bertolini said. "Aetna has a talented and dedicated group of employees working to build a healthier world every day. Our combined company will be more competitive in the marketplace and accelerate progress toward achieving this mission."
Analysts have said business considerations and a push to lower the increasingly higher cost of health care are behind the deal. Meanwhile, plans by the online retail giant Amazon to get into the pharmacy business and a formidable competitor, UnitedHealth Group, the nation's largest health insurer, presented CVS and Aetna with looming competition that had to be faced.
Nearly 10,000 CVS pharmacy locations will include space for wellness, clinical and pharmacy services, vision, hearing, nutrition, beauty supplies and medical equipment. CVS also offers 1,100 MinuteClinic walk-in clinics. The two companies say an "entirely new health services offering" available in many locations will function as a "community-based health hub" to connect health care approaches and answer patients' questions. The merged company will combine Aetna's network of providers and greater consumer access through CVS Health.
CVS and Aetna also said the deal will provide broader use of data and analytics for a "personalized health care experience." One example they cite will be help for patients to avoid unnecessary and costly hospital readmissions. Home devices to monitor activity levels, pulse, and respiratory rates also can help prevent readmissions. The merged company also said it can better treat chronic diseases such as diabetes by providing patient care between doctor visits in store-based health hubs and remote monitoring of key indicators such as blood glucose levels.
"These types of interventions are things that the traditional health care system could be doing," Merlo said. "But the traditional health care system lacks the key elements of convenience and coordination that help to engage consumers in their health. That's what the combination of CVS Health and Aetna will deliver." John Rowe, who was chief executive officer of Aetna from 2000 to 2006, said in an interview Sunday that other reasons could help explain the blockbuster deal. Aetna has a "good long-standing relationship" with the pharmacy business of CVS. With the renewal of its contract for pharmacy work, "that obviously started conversations about what comes next," he said.
Rowe also cited a personal connection between the two companies. Troyen Brennan, executive vice president and chief medical officer of CVS Health, had been hired by Rowe as chief medical officer of Aetna. He credited Brennan for changes at CVS, such as mini-clinics and the discontinuation of the sale of tobacco products. "He's a very visionary guy," Rowe said. When he left for CVS, Rowe said he believes he took with him "an affection for Aetna and personal relationships."
Rowe does not believe Aetna will disappear into CVS. "The Aetna brand is very, very strong," he said. "CVS is smart enough that it will want to keep that brand in the payer space. Even though it's an acquisition, it would be prudent on the part of CVS people to maintain Aetna as a brand." In addition, with three Aetna board members, including Bertolini, on the CVS board and a 22 percent ownership of CVS by Aetna shareholders, Aetna will play a role running CVS, Rowe said.
In Hartford, the business community Sunday viewed the merger as one prompted by the sweeping changes in health care, marked by the consolidation of segments of the business that have long been separate. "We are hopeful that this is going to strengthen Aetna overall through this partnership," Joe Brennan, president and chief executive of the Connecticut Business & Industry Association, said. As for employment that stands at 6,000 in Connecticut and 4,000 in Hartford, Brennan said he hopes that CVS' headquarters in nearby Rhode Island will mean Hartford will remain a strong employment base for the city and will grow as part of the merged company.
Bronin said he believes the deal could present an "important opportunity" for Hartford and for Connecticut to build a partnership with a leading health care company in New England. "We need to seize that opportunity and that means working with tremendous urgency to offer a fiscally-stable, business friendly environment with strong, vibrant cities and high quality of life in all of our communities," Kelly Donnelly, a spokeswoman for Gov. Dannel P. Malloy, said the administration will monitor the "potential deal as it it develops and as details emerge to ensure that the best interests of consumers and Connecticut are protected." Until details are released, "it's premature to assess the potential impact it might have," she said.
David Cadden, professor of entrepreneurship and strategy emeritus at Quinnipiac University, said it's unclear if the merger would be acceptable to the U.S. Department of Justice. However, if CVS and Aetna demonstrate that the deal will lead to significant cost savings that can be passed onto the consumer, "there is a significant probability" that federal authorities will approve the acquisition, Cadden said.
Aetna announced in June it will move its headquarters to New York City from Hartford, where it has been based since 1853. As speculation mounted over the past month about a possible merger, some economic development officials in Connecticut said there might be a chance to reopen discussions on the relocation.

[ Top of This Page ]
---
CVS Reportedly In Talks To Buy Aetna
Aetna, which stunned Connecticut when it said it would move its headquarters from Hartford earlier this year, may be purchased by CVS Health Corp. According to the Wall Street Journal, CVS has been in talks for the past six months to buy Aetna Inc. in what would be a blockbuster deal. CEOs of both companies "have met multiple times," the newspaper reported.
An Aetna spokesman declined to comment to the Courant.
CEO Mark T. Bertolini told employees in June that Aetna is in the midst of a "transformation into a health company." Last winter, CVS Health CEO told Fortune magazine that the company had become a "health care company." "Our strategy is to continue to grow in the digital space and bring new innovations to market, requiring us to expand our access to talent for the knowledge economy," Bertolini said in a letter to employees.
In June, Aetna said it would move its headquarters from Hartford to New York City in 2018 as part of a digital transformation from health insurer to health care company. CVS, which is based in Woonsocket, R.I., changed its name to CVS Health in 2014.
A driver behind its New York move, Aetna said, is the access to a broader market of possible employees who are part of the "knowledge economy," or industries that rely on digital and other forms of technology.
The transformation is aimed at "personalizing" health care, and focusing on how to individually tailor a plan to keep a person healthy rather than just treating the illness or disease. The plans would be based, in part, on data that is gathered for people of a similar age, health background and other factors.
Bertolini, meanwhile, has been publicly talking about CVS for months. He told analysts in May that the insurer is interested in refashioning its pharmacy business in line with customers' retail experiences. He cited CVS's home infusion nurses and suggested Aetna can do similar work. "Why shouldn't we be thinking about how we can catch people between the hospital and their home in a local community center that can give them the information they need?" he asked.
"So we're talking to Walmart. We're actually doing a lot of experiments with Walmart right now, Walgreens and CVS," Bertolini said. "And what I've been talking to them about is, 'Let's take your retail space and redeploy it to infusion, dialysis, DME and we'll make that part of our partnership and we'll let you share the risk of reducing our costs.'"
He said CVS has 9,000 stores within three miles of 80 percent of the U.S. public. "That's a pretty good footprint," Bertolini said. "So we can talk to them about how they reformat the retail and front, where they could be helpful for any population we would serve, or for them quite frankly, as a business model, any population they would want to serve for anybody."
CVS Health has proposed to pay more than $200 per share for Aetna, the Wall Street Journal reported. Shares of the Hartford-based Aetna jumped nearly 12 percent on Thursday, closing at $178.60. CVS shares fell nearly 3 percent, to $73.31. Aetna has a market value of nearly $60 billion.
The report of CVS' interest in Aetna came three days after Aetna announced it would sell its group life and disability operations to The Hartford for $1.45 billion.
Analysts said the sale would allow Aetna to focus on its evolution as a health care company.
Earlier this year, Aetna was rebuffed by a federal judge in its efforts to buy Humana Inc. for $37 billion.
Bertolini had made the purchase of Humana a centerpiece of Aetna's growth strategy, helping to drive up revenue and extend Aetna's reach into new and lucrative Medicare Advantage markets. Medicare Advantage provides a type of Medicare health plan offered by private companies contracting with Medicare to provide health and hospital insurance.

[ Top of This Page ]
---
The Hartford Will Buy Aetna's Group
Life and Disability Business
The Hartford is paying $1.45 billion to buy the U.S. group life and disability business of Aetna Inc., making it the second largest group and life insurer and boosting its data analytics to more quickly spot problems in disability claims.
About 250 jobs locally, and 1,800 nationally, will move to The Hartford from Aetna, The Hartford's Chief Executive Officer Christopher Swift said in an interview Monday. "We share Hartford roots. We're the older sibling," he said. The Hartford has been in business more than 200 years, while Aetna dates its incorporation to 1853.
Shares of The Hartford slid 4 percent, closing at $54.06, down $2.43. Aetna shares rose slightly, up 63 cents, to $161.47. Wells Fargo Securities analyst Elyse Greenspan said in a note that shares fell significantly because the deal "effectively removes" The Hartford as a potential candidate for a merger or acquisition by another company.
It was widely believed The Hartford would sell its variable annuity business, Talcott Resolution, "and be an attractive (mergers and acquisition) candidate due to its small commercial platform," she said.
Greenspan said she believes the Aetna deal shows that The Hartford is pursuing its own acquisitions to grow its business rather than looking to sell the company. The deal, which is expected to close next month, will contribute to The Hartford becoming the second largest group life and disability insurer, the insurer said.
The business has a "stable risk profile, attractive returns and strong long-term growth prospects," Swift said. "This acquisition deepens and enhances The Hartford's group benefits distribution capabilities and accelerates the company's technology strategy," the company said.
The Hartford said combining the group life and disability businesses strengthens its position as a leader in the large employer market and increases its presence among midsize employer clients. It also creates new opportunities to distribute additional products to a base of more than 20 million customers who will be insured by the combined business, the company said.
In the acquisition, The Hartford obtains digital technology expected to advance its analytics in workers' compensation and disability.
To finance the deal, The Hartford will pay Aetna cash consideration of $1.45 billion, primarily comprised of a commission paid by Hartford Life & Accident Insurance Company, the primary group benefits insurance operating subsidiary.
"Our transaction with The Hartford will benefit both our shareholders and customers, allowing us to have a stronger focus on our strategy of creating a personalized approach to improving member health," said Aetna President Karen Lynch.
Aetna, which is moving its headquarters to New York from Hartford next year, is pursuing a digital transformation into a health company, shifting from its traditional role as a health insurer. A driver behind the move, Aetna says, is the access to a broader market of possible employees who are part of the "knowledge economy," or industries that rely on digital and other forms of technology.
The transformation is aimed at "personalizing" health care, and focusing on how to individually tailor a plan to keep a person healthy rather than just treating the illness or disease. The plans would be based, in part, on data that is gathered for people of a similar age, health background and other factors. Such an approach, experts say, would cut the cost of health care in the long-run and decrease the number of large claims a health company must pay.
Swift said the deal is a more significant addition to The Hartford than a divestiture by Aetna. "It's just a small piece of their pie and a bigger piece of our pie," he said.

[ Top of This Page ]
---
Aetna Will Move Headquarters to New York City
Aetna said Thursday it will move its headquarters to New York City and took a parting shot at Connecticut's economy and dysfunction at the state Capitol.
"New York City is a knowledge economy hub, and a driver of the innovations that will play a significant part in our ongoing transformation," said Aetna Chairman and CEO Mark T. Bertolini in a statement posted on the company website Thursday morning. But in a statement, the company said "Aetna's long-term commitment to Connecticut will be based on the state's economic health."
"The company remains hopeful that lawmakers will come to an agreement that puts Connecticut on sound financial footing, and that the state will support needed reforms to make Hartford a vibrant city once again." For the time being, Aetna said, the move of top executives will have a "minimal impact" on it's Connecticut operations. About 6,000 employees will remain in Connecticut.
By relocating about 250 jobs to New York, the company hopes to continue a transition to a digital health company. The company said it would open its new headquarters in late 2018. The new location, 61 Ninth Ave, is being built across the street from Chelsea Market and Google's new corporate campus and next to Apple's flagship store.
In a statement, New York City Mayor Bill de Blasio said the move would bring roughly 250 "good-paying jobs" and an estimated $146 million economic benefit to the city. "New York City is where talent and technology come together," de Blasio said. "We've never been stronger, and that's why companies like Aetna and their employees want to be here."
Aetna's new home will be a "best-in-class office trophy office building" in the city's Meatpacking District, according to the building's website. The 170,000-square-foot space has private terraces on each floor and a rooftop park — complete with a putting green — that overlooks the Hudson River. It will also feature the largest Starbucks store in the world, a two-level, 20,000 square-foot space that models the company's first roastery Seattle, according to the Wall Street Journal.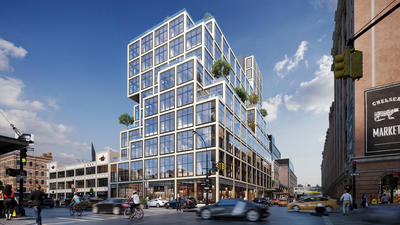 Aetna's new corporate headquarters will be located at 61 Ninth Avenue in New york City. The company plans to begin occupation in late 2018. (Courtesy of Aetna)
Bertolini, who spends much of his time in New York, said Aetna is looking forward to becoming an integral part of the city. "Many of the roles in our new office will be filled by innovators from the area's deep talent pool, which will be an invaluable resource as we consider additional investments in the city going forward," Bertolini said. "I thank Gov. Cuomo and his team for their partnership throughout this process, and look forward to working closely with Mayor de Blasio as we build on our role as a responsible corporate citizen."
According to Aetna, it has already established a presence in the city, including operations in Harlem.
Founded in Hartford more than 160 years ago, Aetna's departure comes a year after General Electric left for Boston and as the state is struggling to compete for jobs and young people.
Gov. Dannel P. Malloy and state legislators are currently locked in a disagreement over how to balance the state's budget, which has a projected deficit of $5 billion in coming years.
"Connecticut has a long history with Aetna and we appreciate that thousands of their employees will continue to work and live here in the state,'' a spokesperson for Malloy said Thursday morning. "While Hartford may not be New York City, we are proud of the city's revitalization. Hartford provides a strong foundation for any company in the insurance sector, large or small. From a very deep bench of top insurance talent, to incredible school systems and a high quality of life for employees, Connecticut remains the insurance capital of the world for good reason."
Hartford Mayor Luke Bronin was not immediately available for comment.
"The company remains committed to its Hartford campus and the thousands of associates based there, in addition to other established locations throughout the country and around the globe. Several of Aetna's key businesses will remain primarily based in Hartford, and the Consumer Health & Services team will continue to operate out of Wellesley, Massachusetts,'' the company said in a statement.
"Aetna's decision to call New York home is another testament to the Empire State's extraordinary economic momentum," said New York Gov. Andrew M. Cuomo in a statement provided by Aetna. "New York has a deep, diverse talent pool and pro-growth environment that businesses need to succeed, and today more companies are choosing New York to grow and diversify their business. By relocating to New York and bringing another 250 jobs to the state, Aetna is sending a clear signal that New York is open for business."

[ Top of This Page ]
---
Aetna Plan Would Move Headquarters
But Preserve Most Jobs Here
Aetna says it hopes to have an agreement by summer to relocate its corporate headquarters and top executives, departing after more than 160 years in Connecticut's capital city.
On Wednesday, both Gov. Dannel P. Malloy and Hartford Mayor Luke Bronin said they expect Aetna to move its corporate headquarters and top executives out of the city, most likely to New York City or Boston. Most of the company's 5,800 jobs in Connecticut are expected to remain, however.
"We are in negotiations with several states regarding a headquarters relocation, with the goal of broadening our access to innovation and the talent that will fill knowledge economy-type positions," an Aetna spokesman said in a statement Wednesday. "We remain committed to our Connecticut-based employees and the Hartford campus, and hope to have a final resolution by early summer."
Spokeswomen for New York Mayor Bill de Blasio, where the company headquarters is rumored to be heading, and Empire State Development, the state's economic development agency, declined to comment. Aetna is also talking to Massachusetts about a move to Boston, sources close to the negotiations say.
Although the insurer would likely move its headquarters elsewhere, Malloy said at an afternoon press conference he believes Aetna would keep the "vast majority" of employees in Connecticut with only "some number" of executive jobs being moved. Malloy added that the company has "an offer in front of them" that includes financial incentives to keep Aetna in Hartford. The state would also match "anything put on the table" from another state regarding a headquarters relocation.
"You can't overstate the importance of a headquarters at a company the size of Aetna and the reputation that Aetna has not only within the health insurance world, but within the corporate world generally," said Oz Griebel, head of the MetroHartford Alliance, a business group. "They're a very, very important employer."
Hartford Mayor Luke Bronin said after multiple conversations with senior leadership at Aetna, "I think it is clear that Aetna decided a long time ago to relocate their corporate headquarters out of Connecticut." "They have said that Aetna remains committed to its Connecticut workforce, and that the Hartford campus will continue to be a substantial employment base for thousands of Aetna employees," Bronin said. "But losing Aetna's flag is a hard blow for the state and for the greater Hartford region."
Despite the blow to Hartford's image, the mayor noted that Aetna would still be a "substantial presence" in the city, with thousands of workers remaining at the company's sprawling complex that stretches along Farmington Avenue and encompasses more than 2 million square feet.
Longstanding Rumors
Aetna, a Hartford icon which was founded in 1853, has been quietly searching for a new headquarters outside Hartford for the last year as concerns over the state's economic future have grown. Earlier this year Massachusetts officials said the company had been looking at real estate in Boston.
Yvonne Matthews, the head of the Asylum Hill Neighborhood Revitalization Zone, took the news of the potential departure hard Wednesday. Her group serves as the mouthpiece for the neighborhood where the insurance giant is located. The neighborhood relies on Aetna in countless ways, including for public safety through its on-site security, for revitalization, through the hand the company played in helping the Mark Twain branch of the city's public library move into West Middle School, a focal point in the neighborhood.
"I don't think people really understand what they do for us, but they do a lot," Matthews said. "They are one of the pillars in the neighborhood."
Most workers near Aetna's Farmington Avenue campus around lunchtime Wednesday said they had not been informed of a headquarters relocation. "Rumors are rumors; we don't comment on those," one worker, Avi, said between drags on his smoke break. "We'll worry about it when we see something happening."
Other employees of the insurance giant, who spoke on the condition of anonymity, tried to debunk talks of the move. One pointed out that Bertolini said at a corporate meeting last week that the company was staying put. Another worker dismissed the talk as just that. "It's business as usual for me," he said. "They say this every year. Weren't we supposed to move to Boston last year? How'd that work out?"
Incentives From Connecticut
Malloy revealed Wednesday he had unsuccessfully sought to talk with Aetna CEO Mark T. Bertolini about the company's future presence in Hartford. In March, amid speculation that Aetna would relocate its headquarters, Malloy wrote to Bertolini asking for a meeting. Two weeks ago he again wrote to Bertolini and offered a package of economic incentives including loans, grants and tax credits to keep Aetna's headquarters in Connecticut. In the letter Malloy acknowledged Aetna's concern about the state's financial footing.
"I know you are frustrated with the fiscal problems and leadership of our state," he wrote. "I am frustrated also. As a huge Connecticut employer and a pillar of the insurance industry, it must be infuriating to feel like you must fight your home state policymakers who seem blind to the future while you diligently lead Aetna's transformation from a fee for service health insurer to a value based health care leader."
Bertolini did not respond to either letter. Malloy said he has shifted his focus away from the headquarters jobs and toward the thousands of other Aetna employees in Connecticut. "For me this is now a conversation about the thousands of employees they have in our state," he said. "Keeping those employees in Connecticut is far more important than where Aetna decides to plant its corporate flag."
The state's business and political leaders were caught off guard when Kevin Rennie, a former state legislator and Hartford Courant columnist, reported late Tuesday that Aetna was planning to move its headquarters, and a few hundred jobs to Manhattan. Business leaders and Malloy's political opponents quickly likened the potential departure of Aetna to that of General Electric, which relocated its corporate headquarters from a suburban office park in Fairfield to Boston, a move that generated numerous bad headlines for Connecticut and furthered the notion that the state is not a good place to do business.
Sen. L. Scott Frantz, a Greenwich Republican who co-chairs the tax-writing finance committee, said Connecticut would have had a much better chance of keeping the Aetna headquarters if the state had developed a better business climate in recent years. "All along, we should have been looking at a much more pro-business, pro-growth set of policies, including taxes and regulations and the attitude we've had up here at the Capitol," Frantz said Wednesday. "Every labor committee meeting that you go to, there's some cockamamie idea that's floated that scares the daylights out of business decision-makers either inside the state or outside the state."
"We run a serious risk if we don't make changes in the [business] environment," said Joe Brennan, president of the Connecticut Business & Industry Association. "All the things we've been talking about: Getting our fiscal house in order, make the state competitive ... will be paramount."
CEO Makes The Decision
But Malloy and Democrats said Aetna's departure from Hartford was more a result of underinvestment in Connecticut's cities. "We don't have to be New York or Boston to be competitive, but we have to recognize that strong, fiscally sound, culturally vibrant metropolitan areas are key to economic growth," Bronin said.
"We're starting to get there," House Speaker Joe Aresimowicz, D-Berlin, said when asked if the state was doing enough to maintain a young, well-educated workforce in Connecticut. "We can't go backwards in time and change things."
Ultimately, Malloy said, the decision to relocate headquarters rests with Bertolini. "There is no book about corporate relocation that doesn't make the following point ... where the chief executive wants to be is the most important factor," he said.
There have been rumblings about Aetna pulling out of Hartford for more than a year. In January 2016, when the company was pursuing an acquisition of Humana, Bertolini told the Louisville, Ky., Chamber of Commerce that Aetna was evaluating its real estate portfolio, "but we've made a commitment to only one community as a location for the most important part of our business, and that's Louisville."
He told shareholders at Aetna's annual meeting in Avon last year that the number of employees in Connecticut had dropped "pretty substantially" and it was no longer the company's largest site in the country. "Until further notice our corporate headquarters is in Hartford," he said.
Aetna opened its current headquarters in Hartford's Asylum Hill neighborhood in 1930, touting it at the time as the largest office building in the state.

[ Top of This Page ]
---
Losing Aetna Headquarters May Not Mean Losing Workers
The announcement Wednesday by Aetna Inc. that it's negotiating with other states to move its headquarters out of Hartford is more of a psychological blow than an economic hit, but only if the health insurer's thousands of jobs remain in Connecticut.
Aetna, a Hartford staple since 1853, said it's in talks with several states regarding a headquarters relocation, with the goal of broadening access to "innovation and the talent that will fill knowledge economy-type positions." It provided no other details.
The health insurer said it remains committed to its approximately 6,000 employees in Connecticut and at its Farmington Avenue campus, and hopes to have a "final resolution" by early summer. Aetna employed 49,500 employees as of Dec. 31, 2016.
Gov. Dannel P. Malloy told news reporters he believes the "vast majority" of Aetna's jobs will remain in Connecticut. "It is my own opinion that this has more to do with their desire to have executive leadership operate in a larger, more vibrant urban center than Connecticut can currently offer," he said. "We all know that employers, especially large employers, are attracted to city centers."
Joseph J. McGee, vice president of public policy and programs at the Business Council of Fairfield County, said Connecticut benefited from the decline of cities in the 1960s and 70s. Industry and residents fled high-crime, financially broke urban areas for suburbs such as Fairfield County.
New York, Boston and other cities have since rebounded, reducing crime, improving their finances and becoming attractive to businesses and workers. At the same time, Connecticut pursued a "suburban-led strategy," successfully promoting its financial services and insurance sector, but was "disconnected from innovation."
Hartford Mayor Luke Bronin used the news to punctuate a point he's made for months — that the state can help itself by investing in its urban centers. Hartford, struggling financially and described by city leaders as being on the brink of bankruptcy, is seeking tens of millions of dollars more in state aid next year to balance its budget.
"What we have to do as a state and as a city is look ourselves in the mirror and resolve to make the changes that need to be made," Bronin said. "I think the decision that Aetna seems poised to make reinforces the argument that we've been making for the better part of a year, which is that if Connecticut wants to remain economically competitive, we have to be a place that has strong and vibrant cities, strong and vibrant metropolitan areas, where companies can attract talent and retain talent."
McGee said Stamford has built ample housing to attract young workers who might otherwise head to New York City. But Connecticut "should be a leading force of digital change," he said.
Aetna's announcement had the affect of a piling-on on of bad news for Connecticut. Economic growth trails most of the rest of New England, the state is unable to recapture all jobs lost in the recession, and public spending continues to be slashed to keep up with falling tax revenue.
Joe Brennan, president of the Connecticut Business and Industry Association, said Aetna's decision raises familiar issues. "All the things we've been talking about," he said. "Getting our fiscal house in order and making the state competitive will be paramount."
Oz Griebel, president of the MetroHartford Alliance, the region's chamber of commerce, said a headquarters move might give other companies pause if they consider moving to Hartford. "If the move is ultimately decided and executed it will, like the GE move, create a negative perception about why," he said.
The finance and insurance sector posted 131,200 jobs in Connecticut in April, down slightly from January, but reaching the highest number in nearly four years. "We're still in decent shape," said Susan Winkler, executive director of Connecticut Insurance and Financial Services, a business association. "We are, in fact, the insurance capital of the United States."
Chief Executive Officer Mark T. Bertolini has spoken before about Aetna's Hartford headquarters. He told shareholders last year that the company was required to establish a presence in Kentucky when it sought to acquire Humana Inc., which is based in Louisville. "We had to make that commitment in order to get the merger done," Bertolini said. "Having said that, the rest of all of our real estate is under review."
The $37 billion deal was ultimately blocked in court and the two sides abandoned it.
Peter Kochenburger, a professor and specialist in insurance and consumer law at the University of Connecticut School of Law, downplayed the loss of the corporate headquarters. "Absent a significant move of jobs, it probably isn't significant," he said. "It obviously has a psychological impact even if the practical impact is pretty small."
Kochenburger cited Travelers, which left Hartford in 1993 and established its headquarters in New York, while remaining the largest employer in the city. Aetna could do the same, "but it certainly doesn't have to," he said.
Richard Pomp, a professor at the UConn School of Law, offered another explanation for corporations to set up shop in larger cities: access to major airports with direct flights not as readily available at Bradley International Airport. "It's been an embarrassment that the governor has not been more successful in getting major nonstop flights out of Bradley," he said. "It's a backwater."
Pomp said shifts in corporate headquarters have a positive impact in one respect: "It's a great opportunity to shed a lot of dead wood at the senior level," he said. "With every relocation, there's a certain amount of senior management who won't make the move."

[ Top of This Page ]
---
Dan Haar: Note To Aetna - Globe Columnist Is Wrong
Dear Mark and Karen,

I saw the open letter to you, Mark, from my fellow columnist and fellow former business editor, Shirley Leung of the Boston Globe. She named Boston as a great location for your headquarters and declared, "It has been the worst kept secret in New England. You want to get the hell out of Hartford."

As the person who first reported that your headquarters was in play, my clear sense is not that you want out of the city where you've been since before the Civil War, but that you want to locate your headquarters in the best possible place for the next two generations. That could mean New York, Hartford, Boston, or perhaps Bethesda, Md., near the seat of national health policy, where you already have big operations from Coventry Health Care.

Among those and others, all no doubt offering money, Hartford should emerge victorious. Here's why:

A headquarters location decision must look way past the city of the moment. Hartford has been a hot region before and it will be again, sooner than we think, thanks in part to the miracle of demographics. This area has always been a fantastic place to live and raise a family, and as Connecticut economist Patrick Flaherty likes to say, today's millennials are tomorrow's 30-somethings.

Put another way, today's struggling housing market is tomorrow's opportunity for your young employees. And it's not like Hartford lacks critical mass in health care and insurance. Both of you rose up at Cigna, as did Meg McCarthy, Aetna's EVP for operations and technology, and Cigna is still right here. So is UnitedHealthcare, which previously employed Rick Jelinek, your EVP for enterprise strategy, and Travelers, the former employer of CFO Shawn Guertin.

Just up Farmington Avenue, UConn Health and the Jackson Laboratory have spent well over $1 billion on a research play that's attracting startup companies and making itself into a top 5 center for genomics, working with Yale.

I saw that Shirley introduced her letter to you, Mark, as "CEO of Aetna, one of the largest health insurers in the country." Well then. Perhaps you'll always need an introduction in Boston.

Here in Hartford, we know you're not mainly an "insurer" but rather a technology and management company. The other companies in the ecosystem here all understand that about themselves, too. Hartford is not your father's filing cabinet, to refute another Globe columnist.

Aetna is at the center of Hartford's revival, not only through your voluntary contribution of $50 million to the city, along with Travelers and The Hartford, but in your recent move to bring some of the work-at-home employees back to the mother ship and your presence on local nonprofit boards, which appears to have stepped up, thank you very much. Mark, this is where your Detroit upbringing comes in.

Massachusetts is seeing some of the same tax collection declines as Connecticut. Just last week, a Boston Globe reporter was snooping around Hartford, fearing, apparently, that the Bay State is heading into the same storm once the growth up there levels off.

Speaking of taxes, every location you're considering is high-tax. Boston's property tax rate, at $29 per $1,000 of assessed value, is actually higher than Hartford's when you consider the value of the buildings there. And the income tax includes a dividend and capital gains levy of as much as 12 percent.

Connecticut is actually ranked low among states when it comes to relying on business taxes, per total value of the economy. And as you well recall, the higher computing tax that rankled you exactly two years ago this week, which led you to issue a statement in frustration, did not pass and has not been proposed since.

Gov. Dannel P. Malloy's letter to the state Senate leaders a few days ago about a bill adding restrictions to the pharmaceutical benefits business should tell you that plan isn't happening anytime soon, either. There is a strong pro-business tide here in the mayor's office as well.

As for Boston, it can be amazing. But some of my close friends live there and from what I've experienced, it's getting to be like the old restaurant gag from Yogi Berra: "Nobody goes there, it's too crowded."

Life is marvelous for the General Electric folks who happen to want to live in little apartments right in the Seaport District. But if they have kids and want to live in, say, Waltham or Arlington, let alone Weston, suddenly they're finding daily hassles that make them wonder whether it was all worth the effort.

Romanticizing the bustle? Just look at Shirley's own column from 2014, looking back on her years as a Boston city resident: "There were many nights when I circled for 20 minutes or more looking for a space ... Our cars have been towed, dented, broken into - and totaled."

You're a global company and you will continue to have important centers in many cities. We know the headquarters function - maybe still in play, maybe not - includes just a few hundred people, not all 6,000 Hartford employees. The best place for them, for you, is still amid the critical mass at Aetna and in the health management industry - Hartford, where Morgan Bulkeley was mayor, head of baseball's National League and the Aetna president.


[ Top of This Page ]



---
Background and Termination
of Acquisition of Humana
The following link will take you to a document found on Aetna's website titled 2016 Annual Report on Form 10-K: To Form 10-K. On page 99 of this report Aetna describes its attempted acquisition of Humana under the section Terminated Acquisition of Humana and Terminated Divestiture to Molina."

[ Top of This Page ]
---
Aetna To Cut Workforce and Reduce Work At Home Policy
Aetna, long praised as one of the nation's most flexible employers, is cutting back on a policy that allows employees to work from home.
The company, which believes its generous work-at-home policy is harming collaboration, will be requiring managers who live within 50 miles of an office to start working in the office next year, according to several employees. Over time more rank-and-file employees will also be brought back into the office.
Aetna has also announced plans for layoffs and an an early retirement package as the Hartford-based insurer moves to reduce operating costs.
Aetna spokesman Matt Clyburn said the changes to the telework policy are being done "with the goal of increasing collaboration and driving innovation." "Recently we informed employees of several planned actions to help position Aetna for continued growth in 2017 and beyond, including a voluntary early retirement program," Clyburn said.
"We are not providing details on the potential impacts of our early retirement program ... nor are we providing details on updates to our telework policy. Those changes will be communicated directly with employees," Clyburn said.
CEO Mark Bertolini told Aetna employees in September about the need to trim the workforce and bring workers back to the office, while also announcing a plan to offer an Apple Watch to employees.
Aetna is also in the midst of a controversial proposed merger with Louisville-based Humana that is being opposed by the U.S. Dept. of Justice. In the midst of the merger discussions, Aetna's CEO has offered no assurances that the insurer will keep its headquarters in Hartford if the merger wins approval.
Over the last decade, the company has emphasized its employee-friendliness in many ways, and its work-from-home policy is one of the things it touts.
According to Gallup, the percentage of U.S. workers who say they have telecommuted has risen dramatically over the last two decades. The polling organization reported last year that 37 percent of workers say they have telecommuted.
"Who wants a long commute? With more than 100 office locations, we may be closer than you think. You might even get the chance to work from home,'' the company states on its website. "Today, more than 43 percent of our employees telecommute."
Aetna has about 6,000 employees in Connecticut, down from about 7,000 in 2013, when the company told the Courant that 3,000 of them worked from home.
Grace Figueredo, vice president of Aetna's workplace culture, chief diversity & inclusion officer, said earlier this year that about 5,000 people work at Aetna headquarters in Hartford. Some people work both from home and at headquarters.
Wayne Turmel, co-founder of the Remote Leadership Institute, which helps managers deal with a scattered workforce, said many companies expanded working from home options for financial reasons.
But Turmel said while people who work from home are more productive, studies have shown that they collaborate less with colleagues. Now, he said many companies, including Aetna, are shifting back to requiring employees to come to the office.
He said companies that want to balance remote work with collaboration should ask themselves: "Are we creating opportunities online to get to know each other and really know each others' strengths and weaknesses?"
Turmel said many companies haven't adjusted their remote work approach, even as they realize their work culture isn't where they want it to be, because it can add to real estate costs. And, he said, workers who took a job, or moved further away based on how often they had to be in the office will resent a change.
In addition to the change in Aetna's work at home policy, Bertolini said some job reductions are due to the company's decision to stop selling Obamacare policies in some states. The company will no longer need 800 jobs supporting that business segment. He said that 400 of those workers had been placed in jobs elsewhere in the company.
Clyburn declined to say how many people are eligible for the early retirement package.
"We are constantly looking for ways to reduce operating costs, which includes reviewing how our resources are deployed," he said.
Aetna's early retirement initiatives have dramatically trimmed veteran employees from the insurer's workforce.
Bertolini told the Wharton School of Business magazine earlier this year that early retirement programs have left Aetna with relatively few employees with more than 20 years tenure.
"So out of 50,000 employees, we probably have less than 1,600 employees who have been with the company longer than 20 years," he said.
In 2011, 1,700 people around the company took early retirement, including 400 in Connecticut. In order to qualify both then and now, their years of service plus their age had to add up to 65.
The Apple Watch initiative received wide press, while the company chose not to make public its plans for changes to work at home policies.
The company said that Apple Watches would be provided free to all its 50,000 employees. However, in order for the watch to be free, employees would have to choose to spend their $200 annual wellness reimbursement credit on the device, and the company would make up the difference.

[ Top of This Page ]
---